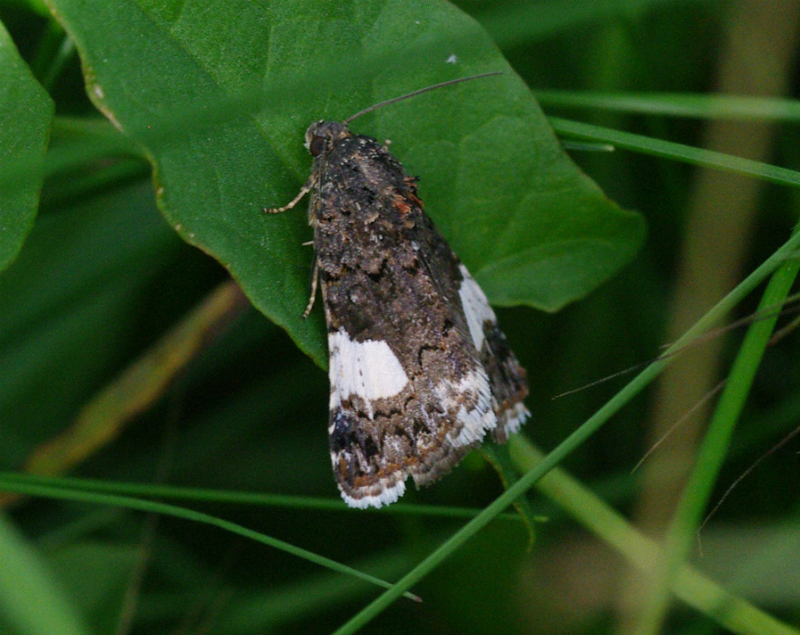 © Liz Goodyear
Four-spotted moth is a high priority moth in the East Anglian Regional Action Plan, and one of the national strongholds is a small area where Cambridgeshire, Essex and Hertfordshire boundaries meet. The last Hertfordshire record was at Arbury Banks near Ashwell in 2005. We aim to increase this species in Hertfordshire by finding where it is surviving and improving its habitat.

In 2017 Four-spotted was found close to the Hertfordshire border at Heydon (0.5 miles) and Langley Upper Green (1.5 miles). There is a good chance that targeted survey work this summer could put this moth back on the Hertfordshire map. It is a day flying moth that can be found on arable field margins and south-facing banks with thin calcareous soils. The caterpillar feeds on Field Bindweed which is often abundant at good sites and the adults will nectar at a range of flowers including Ox-eye Daisy and Red Clover. The moth will occasionally visit moth traps.
Survey work in Cambridgeshire and Essex has been going on for a number of years, and it is clear that regular ground disturbance is important for this species, and explains why the moth persists along railway corridors, cultivated field margins and steep road banks. The moth has been quick to colonise development sites such as new road schemes, cuttings and reservoir banks in Cambridgeshire and Essex.
We hope to work with landowners and developers to influence new developments such as Solar Farms or road schemes to include banks and features that will benefit the Four-spotted moth.
North Hertfordshire is relatively under-recorded and sightings of all butterfly and moth species will be very welcome. Small Heath and Common Blue are often found at good Four-spotted sites. A brief study of the soil type map has indicated that the moth is associated with certain soil types in Cambridgeshire and Essex and we will target those areas with the same soil type in Hertfordshire.
Survey plans for 2018
Volunteers will be provided with maps to indicate potential survey areas. The moth flies between mid-May and mid-August in two generations. A sunny day is essential and walking through vegetation or with a dog has been shown to be helpful in disturbing the moth. It is normally seen singly, often after an hour spent looking for it, but Colin Plant recorded 100 on a single day in Essex in 2005 so anything is possible.